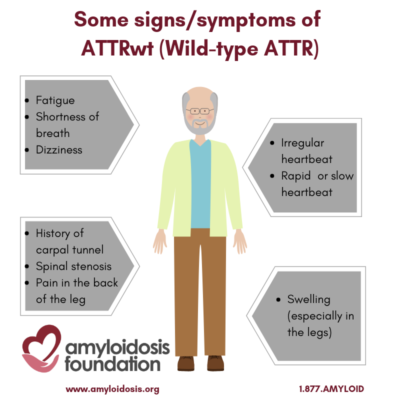 Wild-type ATTR is also referred to as ATTRwt. It is not caused by any known genetic mutations, such as in the case of hereditary forms of the disease (hATTR). This disease used to be called SSA or SCA, which stood for Senile Systemic Amyloidosis and Senile Cardiac Amyloidosis, respectively, which are now outdated terminologies. The disease is not known to be directly related to dementia, but it is related to aging.
Deposits of TTR amyloid can be found throughout the body, so it is a systemic amyloidosis disease. The most common place it is found is in the heart. Wild-type ATTR is also known to cause some cases of carpal tunnel syndrome, which can be the first (early) symptom. Recent data suggests that lumbar spine involvement as well as a rupture of the biceps tendon in the forearm can precede cardiac involvement by many years.
This is a disease that has traditionally been found mostly in men, originally reported in those aged 80 and over. As awareness of the disease increases, wild-type ATTR average age at diagnosis is 75. It is often overlooked as an amyloidosis disease because so many people experience heart problems in their later years.
As with hereditary forms of the disease (hATTR) wild-type ATTR causes problems due to the breaking apart, misfolding and deposition of amyloid protein fibrils in healthy tissue. "Wild-type" refers to this form of the disease because it is the natural form of this protein, without genetic mutation. These deposits can interfere with the heart's normal function, by causing stiffness of the heart tissue, making it more difficult for the heart to fill, leading to heart rhythm problems and heart failure.